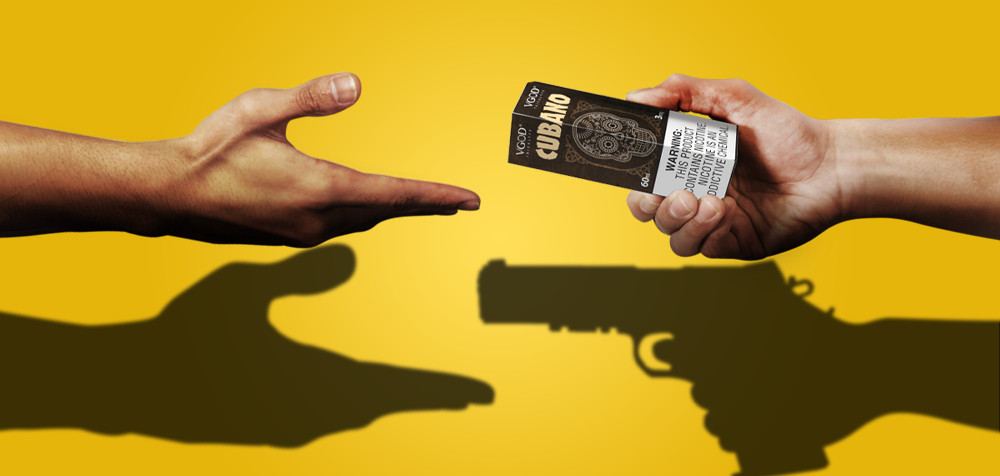 You know the Guys are effecting by Vape Fake E-juice
Fake e-juice is now available everywhere. You may have come across some yourself. There is no point in sugarcoating this. Fake E-Liquids are harmful to both the industry and the consumer.
Don't be let yourself become the next victim! We'll show you how to recognize fake e-juice in this article.
"If a vendor is selling fake e-juices, I certainly want to know so I can avoid buying from them EVER!" ~Rob Fisher, South Africa~
Stop & Think.
What happened to those guys who take Fake E-juice?
"While it is feasible that the fake juice may make the best e-juice and sell it at the best price, I don't trust them. The most current example is the nautilus, entirely made of stainless steel but has a brass chimney. Lead has long been used as filler in their products. Plastics are included.
"During my first week of vaping, I did use Fake e-juice. It was the only thing accessible in the area, and I was determined to quit smoking. It had candle wax and chemical flavour to it. When I look at the bottle, I become sick." ~ ApeMustNotKillVape, US~ 
We won't scare anyone; just clarify that the harmful versions of Fake E-juices are circling throughout the market. There are false versions of almost anything these days, whether you're looking for a new pair of sneakers or a new purse.
However, the distinction between fake e-juices and other fraudulent products is that fake e-juices may be more hazardous to your health. Even fake e-juices would often deprive you of a satisfying vaping experience.
Here is a story of a person who had vaping experience with fake e-juices; he boughtCurl Up e-juice cherry and Red Bull flavours from a store. "It's not bad in the sense that it's chemical-free, but the flavours are disgusting. Their tastes are no more than the sweet air, and the smell of both flavours isn't as described."
"It's terrible from start to finish; the package is shady, and there's no further information regarding where it is made, the VG/PG ratio, or other crucial details. This is the first and last time I'll ever buy fake e-juice.

"Saving yourself from the hassle, just don't buy anything that meets the description I left above." ~ ~Vapezambia~
Why is fake e-juice dangerous to you?
Unidentified Ingredients:
They do not use pharmacological mark nicotine.  Even the used flavours and extracts are not of a high standard, nor do some known firms manufacture them.
They are possibly dangerous t your health. This argument carries weight as low standard ingredients are used in the production of such juice.
Such poor-quality ingredients can even prove dangerous for your equipment, as a low standard liquid that is not appropriately tested damages your equipment through strange reactions.
They also prove to be a fire hazard. They are prone to burn at a fast speed and affect the wick and head of your equipment, and as a result of this damage, the taste of liquid is usually spoiled.
Finally… How to identify fake e-juice?
Price: The price of juice matters a lot as you get the thing for which you pay. If you observe that you are getting it at a cheaper rate, it may be of poor quality. 
Labeling: If you observe that the product is being sold with a label, you must doubt its originality. Some items don't even include a list of the ingredients and the ratio where it's coming from, who's the manufacturer. This is not compatible with most countries' regulations.
Seller. Always try your best to buy only from trustworthy and reputable sellers.
Before buying the product, if you feel any doubt, you must ask the seller about the information about the juice. They should know the origin of the products they sell.
Taste. Is it too powerful or 'barely there'? Does it taste 'funny'? Fake e-juice might be too strong, too 'thin' or just plain weird.
Packaging. If you notice that the packing of juice looks cheap or not proper, you should not buy it at any rate. You should also check if they have safety and security measures (hologram, safety cap etc.)?
Side effect. Do you feel nauseous or sick?
Basically
Use your common sense.
If you notice that the juice's taste, smell, or packing is not right, you must refuse to buy it.
Do some background on any seller you are considering buying from. Make sure they are selling authentic products.
"NEVER AGAIN! It tasted like if you mixed bleach dish soap, hand sanitizer and some aerosol citrus air spray and vaped it… I burned my throat like it too!

"Plus, it leaked like a motherf**ker, and when it leaked to the point of spilling a little in my mouth, it left an unforgettable taste in my mouth. I'm tossing this in the trash."

~ Dielonn, U ~